IPPP cooperates with Lotte to open Trang Tien Plaza Duty-Free Store
22 - 12 - 2020
The signing ceremony of cooperation between Imex Pan Pacific Group (IPPG) - Trang Tien Plaza (TTP) and Lotte Duty Free to develop duty-free shops throughout Vietnam has taken place in Hanoi by the representatives of both sides are Mrs. Le Hong Thuy Tien - President of IPPG and Mr. Park Suk Won - CEO of Lotte Duty Free Vietnam. In particular, the first Downtown duty-free shop will open at Trang Tien Plaza at the end of Q4 / 2021 as expected.
Mrs. Le Hong Thuy Tien - President of IPPG - and Mr. Park Suk Won - CEO of Lotte Duty Free Vietnam signed a business cooperation agreement between Imex Pan Pacific Group and Lotte Duty Free Vietnam to develop Duty Free chain stores throughout Vietnam.
Previously, IPPG cooperated with Lotte PK Duty Free to open duty-free shops at three airports: Hanoi, Da Nang and Cam Ranh. In 2019 alone, the joint ventures of IPPG and Lotte PK Duty Free served more than 13 million visitors to visit and shop at duty-free shops.
Vietnam's tourism is at a period of rapid and strong development with a high growth of international tourists. In the 2016-2019 period, the average growth rate of international tourists reached 12.8% / year. And, Vietnam is also voted as the top tourist destination in Asia.
With the great potential for development of Vietnam's tourism industry, according to Mr. Johnathan Hanh Nguyen - Chairman of the Imex Pan Pacific Group - IPPG and its joint venture partners are planning to open more duty-free shops at the airports and down the street (DOWNTOWN DUTY FREE) in big cities with the main purpose of bringing tourists from big tax-free business groups in the world to shop in Vietnam. "It is expected that the joint ventures of IPPG will bring more than 20 million visitors each year after the Covid-19 epidemic is controlled, in which, attracting high-end tourists who are willing to spend money on shopping to Vietnam and want to have long-term stay in the near future." - Mr. Johnathan Hanh Nguyen said.
Mr. Johnathan Hanh Nguyen also shared that Dior and LV are about to relocate to their own building, which will open a new potential opportunity for IPP and TTP to bring more high-end brands to participate in opening the store, consistent with the consumer development trend of Vietnam in general and Hanoi in particular. "In the future, TTP will not have enough space for us to bring all the IPPG brands distributed in Vietnam into business, so today, we would like to propose to SCIC and the Hanoi People's Committee facilitates us to acquire a larger land plot to invest in a new high-class commercial center like Trang Tien Plaza in Hanoi City." suggested Mr. Hanh.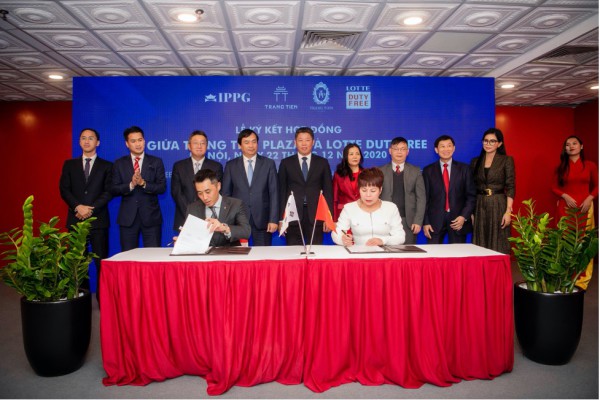 Representatives of Lotte Duty Free and Trang Tien Plaza signed a cooperation agreement.
Lotte Group is one of the major global companies in the world. The group is doing business in many fields, most notably Lotte Duty Free, is the No.1 travel retail company in Asia and No.2 in the world with 2019 sales of $9 billion. Lotte Duty Free is pursuing more diversification of its foreign business portfolios, on the way to achieve these goals, the joint venture with the IPPG will support Lotte Duty Free to fulfill its goals, as well as the Group's mission to lead the duty-free business in the world, becoming one of the leading companies in the duty-free retail sector.
Trang Tien Plaza (formerly known as Trang Tien General Department Store) is located in a beautiful and unique location in the heart of the capital, overlooking Hoan Kiem Lake. According to Mr. Le Song Lai PTGD SCIC, the representative of the owner holding 90% of the shares of Trang Tien Plaza: "Opening a duty-free shop down the street at Trang Tien Plaza not only brings benefits and economic efficiency for cooperating parties (including us, the owners of state capital), but also contribute to diversifying, improving shopping experience, attracting tourists to the capital, and helping tourists have more time to experience the city and shop… . It will make Trang Tien Plaza more attractive, becoming a "must-visit" place every time you visit, travel, shop in Hanoi".
Mr. Johnathan Hanh Nguyen - Chairman of IPPG
The Director General of the Vietnam National Administration of Tourism (VNAT) Nguyen Trung Khanh assessed that the signing of cooperation between IPPG and Lotte Duty Free to open the first street duty free shop in Hanoi at Trang Tien Plaza, marking a new and breakthrough development, not only brings great value and benefits to the parties participating in investment cooperation, but also contributes to attracting and increasing the number of international visitors, high-end segment buying branded goods to Vietnam, which puts up to increase spending and travel time of tourists.
In the current period, effective policy making in the prevention and control of Covid-19 epidemic by the government has helped Vietnam continue to be among the group of countries with the best economic growth in the world, Vietnam's merchandise exports reached an export surplus of nearly $20 billion after 11 months, 2.3 times higher than the same period in 2019.
Along with the trend of developing tourism infrastructure of the country, in the coming years, IPPG is working with its partners to build financial centers, smart airport city, entertainment resort and Factory Outlet with large-scale in non-tariff zones such as Phu Quoc, Da Nang, Bac Van Phong and with the ambition to attract more investors, after the pandemic, we will bring to Vietnam tens of millions of tourists from Asia, Europe and many other countries to visit and shop. It is expected that the Non-tariff Areas and Factory Outlet will consume between 3 and 5 billion USD of goods from the EU, and the US, thereby helping to balance the trade balance between Vietnam and other countries.