IPPG accompanies with the development of Nha Trang City
01 - 11 - 2019
From Mr. Johnathan Hanh Nguyen – Imex Pan Pacific Group's Chairman 23/10/2019. The meeting was hold at University of Nha Trang, hosted by University of Nha Trang with IPPG and Coca-Cola Vietnam organized, with the participation of representatives, lecturers… more than 1000 students are attending the school.
Constant devotion for the homeland – Nha Trang
A son of the beautiful coastal city, Mr. Johnathan Hanh Nguyen always nurturing the desire to contribute their own contribution to the development of Nha Trang. He is a major shareholder, holds 30% share of Cam Ranh International Airport - the investor of the International Passenger Terminal at Cam Ranh Airport, one of the key projects to boost tourism and economic development in Nha Trang. In March, 2019, this airport was in the Top 5 Routes Asia 2019 Marketing Awards voted by 200 airports and 100 airlines. He is also the first investor to build the first 14-floors hotel in Nha Trang. In addition, he was the pioneer of the construction of two primary schools in Truong Sa, providing favorable learning conditions for children of soldiers on the island.
Mr. Johnathan Hanh Nguyen shared: "Nha Trang is where all the geniuses are made. I am very proud to say that I was born in Nha Trang, all of you students should also be proud of that. You are not only the key for the progression of Nha Trang in the future but also carry a prestigious duty, is to maintain the homeland."
Associate Professor - Dr. Trang Si Trung – Principal of Nha Trang University gave thank you flowers to Mr. Johnathan Hanh Nguyen & Mr. Peeyush Sharma
To motivate and encourage the entrepreneurship, as one of the most intrigued topics, Mr. Johnathan Hanh Nguyen suggested Nha Trang University hold a start-up contest, awards are sponsored by IPPG and Coca-Cola. As one of the judges, he stated: "I want 15,000 students of Nha Trang University to strive for the best! We will sponsor for all the awarded start-up projects so that no one will get left behind."
"University students are what successfully established "Happiness City" and "EKOCENTER"
At the session, Mr. Johnathan Hanh Nguyen has officially announced "Happiness City" project at Nha Trang – Khanh Hoa Province. Along with Coca-Cola Vietnam and Nha Trang University, the project will endorse practical activities such as: community support, promote gifted youths, eco-friendly programs, enrich the life quality for the local people… This project will ensure to encourage tourism, social quality development as well as sustaining the local community to grow prosperously. Through "Happiness City" project, he hopes Cam Ranh International Airport's visitors will raise from 6,2 million to 10 million visits, Nha Trang's beach became an ideal vacation destination for "smart, green, clean, breathtaking". Besides business and school, university students play a significant role in "Happiness City" Project.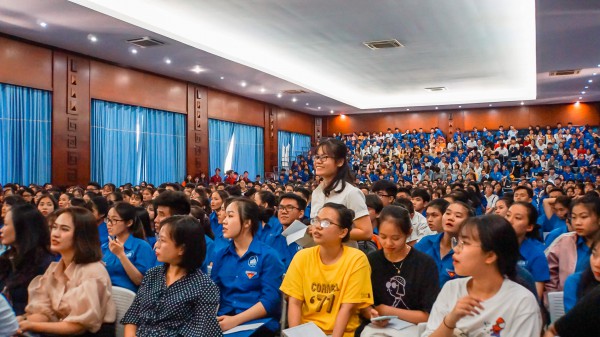 Nha Trang University's students excitedly asks questions for Mr. Johnathan Hanh Nguyen
In response to the question "How will students be involved in the EKOCENTER project?", the representative of Coca-Cola Vietnam answered: "Through the EKOCENTER Community Activity Center, jointly developed by Coca-Cola & IPPG. In the future, students will be supported in education, improved their capacity step by step. Besides, we will organize forums to connect students, develop startup programs, open training and coaching courses to help students to prepare suitable skills for their careers." "It is the students who will run the project!" – Mr. Phillip Nguyen, Deputy General Director of IPPG said.
The meeting with Nha Trang University is also pleased to have the participation of General Director of Coca-Cola Vietnam Co., Ltd. - Mr. Peeyush Sharma. The IPPG's strategic partner had provided useful information regarding the "Sustainable development strategy in production and community programs," as well as the role of Coca-Cola Vietnam in the "Happiness City" project.
In the exciting atmosphere of the meeting, Mr. Johnathan Hanh Nguyen sincerely told his journey on successful entrepreneurship and advised students on the opportunity to become employees of IPPG, Coca-Cola...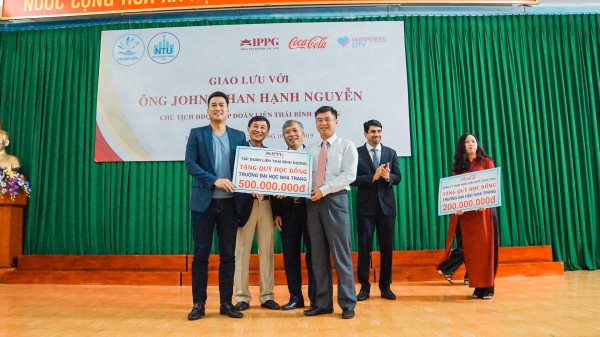 IPPG & Coca-Cola Vietnam always enthusiastically support students under challenging circumstances
At the meeting, IPPG and Coca-Cola Vietnam Co., Ltd. presented to the Study Encouragement Fund of Nha Trang University with the amount of VND 500,000,000, and VND 200,000,000 supports students under challenging circumstances.
Below is a meeting video of President IPPG and Coca-Cola Vietnam at Nha Trang University:
From 2019, IPPG and Coca-Cola Vietnam will together effectively manage the business, strengthen relationships, and put into operation the campaigns that improve, enhance the quality of life and protect the environment. Especially, EKOCENTER will integrate meaningful community activities and values such as provide clean water, ability training programs for women, raise local awareness and recycling waste, promote business models… Companies with different backgrounds and similar perspectives and visions will open many opportunities to grow and maintain developments of both sides thoroughly, at the same time, form societal values for a more enlightened Vietnam.
Currently, IPPG is one of the leading multi-industry corporations, an exclusive retailer and distributor of over 100 top-world brands, an investor of luxury shopping malls, and an owner of over 1,000 high-end retail stores. Also, IPPG one of the investors of Cam Ranh International Terminal and duty-free stores at major airports all over Vietnam. Every year, IPPG pays 1,950 billion VND to the national budget for tax and creates 25,000 jobs.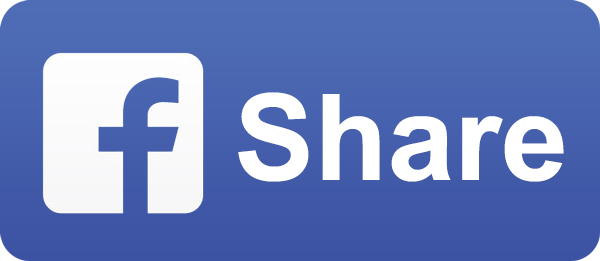 Other news