Mr. Johnathan Hanh Nguyen: "Success Only Comes To Those Who Are Persistent, Quick-Witted, And Know How To Seize Opportunities To Realize Their Dreams"
24 - 10 - 2022
"A lot of individuals know how to dream, but success only comes to those who are persistent, quick-witted, and know how to seize the opportunity to realize their dreams." As a special guest at the Opening Ceremony of Course 48 of UEH, Mr. Johnathan Hanh Nguyen - Chairman of Imex Pan Pacific Group (IPPG), an influential Vietnamese person with domestic and international youth, has brought inspirational stories to the student generation who live in the digital era, with the theme "Always Ready For Next".
Dear students!
Today marks an important turning point in your life - in the future, all of you will undoubtedly be brilliant economists, talented managers, and new generation entrepreneurs, contributing to the country's development and prosperity. And it is only you who "determine" your life's "future." Therefore, you must continually study and cultivate yourself in a new setting in order to broaden your knowledge and experience. Today's period is the knowledge economy's century. Learning to assert ourselves and learn in life is regarded as our life's work.
Success Only Comes To Those Who Are Persistent, Quick-Witted, And Know How To Seize Opportunities To Realize Their Dreams
Many people know me as a successful businessman, but perhaps few people realize that in order to reach this position today, I had to endure difficult and arduous days as a student, including going to car washes and working in the middle of snow and ice in the United States to earn money to study and fulfill the dream of graduating from high school in the United States.
When I graduated from college, I had to compete fiercely with hundreds of local and international bachelor, master, and PhD candidates, all of whom were equally determined to land an attractive job - that of financial inspector Boeing subcontractor of America. I had to carefully research "How do Americans select candidates?" in order to pass the highly demanding interview and compete against hundreds of applicants. In addition to the required professional qualifications, most will gain bonus points if they have letters of recommendation from companies or reputable well-known people. So, through communication and familiarity, I obtained letters of reference from them, confirming my enthusiasm and competence to attach these documents to the interview application. Then, with great focus and strong financial abilities, I pointed out a weakness in the tax reporting system, made a significant impression on the Board of Directors, and was recruited right away. What I want to share with you here is: "A lot of individuals know how to dream, but success only comes to those who are persistent, quick-witted, and know how to seize the opportunity to realize their dreams."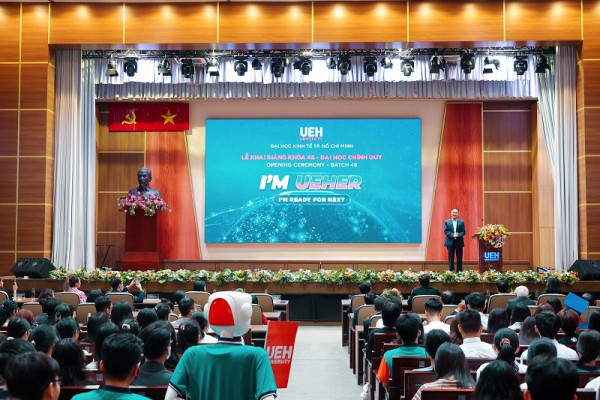 Mr. Johnathan Hanh Nguyen - Chairman of Imex Pan Pacific Group (IPPG) gave a speech at the Opening Ceremony of Course 48 of UEH.
Do Not Inquire About What The Fatherland Has Done For Us; Rather, Inquire About What We Have Done For The Fatherland
In 1985, I was living a stable life with a high salary in America, but when I saw that Vietnam was still too difficult and that so many Vietnamese people who had crossed the border had been looted and killed at sea, I couldn't stand still, with deep patriotism and a spirit of dedication to help Vietnam get out of the "economic embargo," prompted me to decide to bring my family back to Vietnam, and boldly entered the Philippine Presidential Palace, asking President Marcos for approval to open a flight route from Vietnam to Manila.
On September 9, 1985, the first flight of the national airline of Vietnam officially landed at Manila airport. This is a significant turning point in the history of Vietnam's aviation industry, linking the country to the rest of the globe and contributing to the country's economic development. For me, this is the obligation of a patriot with the mission of "The one who opens the way," as well as a source of tremendous personal pride, because I have dedicated my life to my beloved nation and people. I always love the saying: "Ask not what the Fatherland has done for us, but what we have done for the Fatherland."
Live, Be Human And Work With Kindness
After successfully linking the historic route between Vietnam and the Philippines, I was invited to Hanoi by Mr. Pham Van Dong, Chairman of the Council of Ministers at the time, to meet to express gratitude. When I was leaving, I stopped to see Uncle Tran Quynh, Vice Chairman of the Council of Ministers (Deputy Prime Minister) at the time, and he held my hand and advised: "First, when doing business in Vietnam, you must be patient and persistent. Second, you must follow the law and rules, and you will be protected by the Party, State, Government, and People."
I always follow the instructions of Mr. Tran Quynh. Initially, the business situation in Vietnam was risky; there was no clear legal framework, making it challenging to make investments or convince international investments to join the country. Despite this, even when there are failures, I always keep the following priorities in mind: long-term investment, "no speculating" pursuing short-term gains, being honest in business dealings, and complying with the law. With this drive, I built the IPPG that exists today, earned the trust of leaders, and established a reputation and brand in local and international markets.
This year marks my 72nd birthday, after many ups and downs in life, 6 years of student life (04 years at the School of Business Administration - Da Lat University, 2 years studying for a Master's degree in the United States), and 45 years as a great businessman, I prefer the word "kinder" over "successful." You can become a successful businessman but if you are not kind, do not have a heart, and do not follow business ethics and the law, your success will be fleeting and not permanent.
I would like to share with you what I have learned from my personal experience:
Ignore objections, believe in yourself, violate all outmoded norms, and don't be scared to fail if you have desire and passion.

Don't waste time waiting for the ideal opportunity and missing out on the right one; instead, start with the "little things" and work with all your heart and mind on making them big.

Don't settle and give in easily to difficult situations; instead, consider the best method to better the situation and don't let existing circumstances overwhelm your dreams.

"Today is difficult, tomorrow will be even more difficult, but the day after tomorrow will be great," billionaire Jack Ma stated. However, if you are discouraged by difficulties and sit with your arms crossed waiting for the next day, there will most likely be no sunny day after tomorrow!
The Spirit of Entrepreneurship - Preparing For The Future
To prepare for the future, students must have an entrepreneurial spirit. Don't assume that we will start a business after we graduate or when we have the perfect conditions; instead, think positively from the time you are in school. How, in your current circumstances, to realize your dream of starting a business in order to experience the preciousness of rubbing against reality, the creativity of your dreams and ambitions; even if you fail, it is a good lesson for you to firmly step back and continue with your own hands and minds to achieve success in the future.
I have two recommendations for young people on how to start a business. In the first scenario, if your family has the resources and a business, you can learn and practice at the same time, beginning at entry-level roles and progressively moving your way up. My more than 40 years of business expertise has taught me that a family is a fantastic environment for learning. In the second scenario, it is critical to work hard to find a good job while attempting to concentrate on studying well if the family does not have any "resources." As soon as I graduate from college, I need to take on a minor task so that I can gain some practical experience and apply for any post for which I am "predestined." Any thought and any profession will subsequently provide you with knowledge and experience. Spend your time developing yourself step by step and demonstrating your abilities within the company to succeed in your profession rather than wasting it on "entertainment that does not bring intellectual value." You can decide to continue to work or create your own path for yourself and your family after you have substantial knowledge and expertise.
In addition, you are studying in the environment of the Vietnamese economy, which has many benefits in terms of deep integration with the rest of the world but also confronts many obstacles in terms of competing at home. However, the difficult and challenging competition will put pressure on us to reconsider our worldwide approach in order to grow and expand further. In this case, you should not waste your time; instead, you should learn, update your knowledge and news on the Internet, which is a huge resource of free knowledge material, but you need to select trustworthy and reliable information.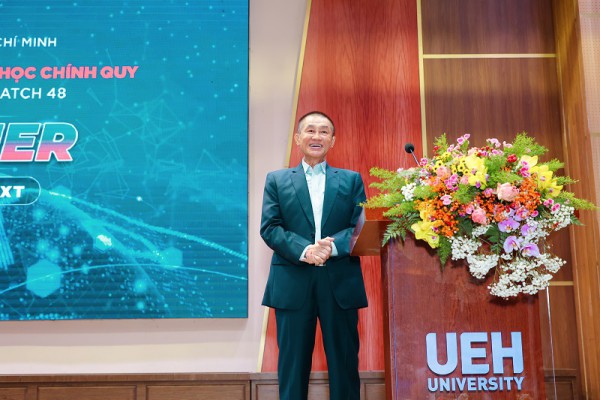 Mr. Johnathan Hanh Nguyen's inspirational sharing has provided a generation of UEH students with useful advice as they prepare for their future knowledge and careers.
You were lucky to be admitted to the University of Economics in Ho Chi Minh City, which is one of the top economic and business management training universities in Vietnam in general, and particularly in the southern region. This is a pillar of Vietnam's higher education system, as well as a research center for economic and management policies for the government and leading businesses. Therefore, give your all in every duty assigned to you by society and the country. Filial devotion for parents and concord with siblings are important in the family. Respect for educators at school and goodwill for classmates. When at work, constantly willing to learn and ready to be responsible for yourself, for society, and for the nation to become a contributing citizen of society.
And finally, I want to leave everyone with this advice: "If you want to go fast, go alone, if you want to go far, go together". Winning does not mean finishing first. The most important thing in life is not to win the race, but to help others rise together. There are many ways to win and there are many people who have won even though they are not the first to finish. To develop the economy and strengthen the country, it is crucial not just to rely on a few leading businesses, but also to foster a culture of mutual support among big and small businesses. In Vietnam, we need a strategy to elevate an entire generation of strong and elite businesses and the young generation will be a generation of golden entrepreneurs that we are looking forward to.
I wish all students health and success!